Graduation Ceremony of the Class 2017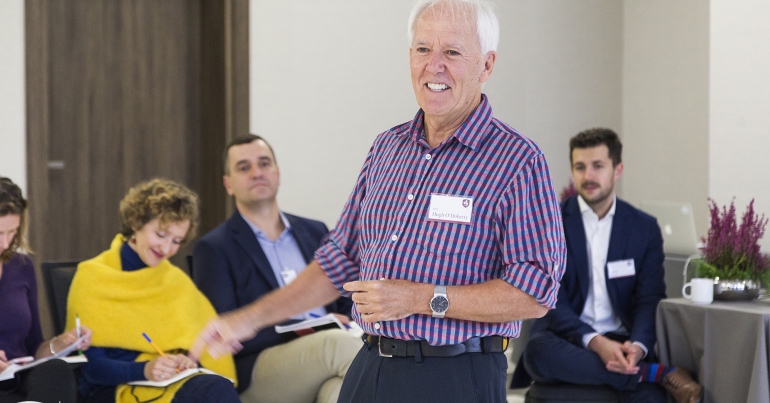 This Saturday we are hosting a Graduation Ceremony of the LAP Class 2017. For everyone who is interested we would like to invite you to a beautiful and insightful lecture by prof. Hugh O'Doherty of Harvard who is one of world's leading educators of leadership and conflict resolution. The lecture is titled:
"Leading in a Time of Division".
Raised in Northern Ireland, Hugh O'Doherty teaches leadership at Harvard University and is a Senior Associate with Cambridge Leadership Associates. Hugh has taught leadership and conflict resolution at the Jepson School of Leadership Studies, the McGregor Burns Academy of Leadership, University of Maryland, where he directed the Ireland-US Public Leadership Program for "emerging" leaders from all the political parties in Ireland.
In order to book your place, please visit: http://lap-2017-graduation-ceremony.evenea.pl/
Fee for one ticket is around 79 PLN. We introduce this small fee in order to avoid situations in which applicants who book their seats do not show up for the lecture, because "they are for free". This would be a real loss because we truly want to give a possibility to participate in a world-class lecture on leadership to as many applicants as possible. Secondly, part of the fee will cover a very small fraction the organizational costs (space, welcome drink, etc.).
For more information about our guest lecturer please visit: http://center-for-leadership.org/academy/faculty/
Important:
During the Graduation Ceremony of the Class 2017 so you will have the opportunities to speak to us, our Partners, Fellows and Alumni of the Academy.
We will welcome you on the 13th January (Saturday) at 5:00 pm at The Heart (Spire building, 38th floor, Pl. Europejski 1, Warsaw) with a welcome drink. The event starts at 5:30 pm.   
The number of seats is limited.