Graduation of the Class 2018 Successfully Completed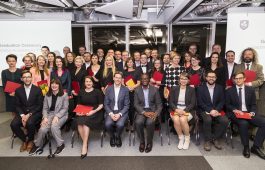 On December 17th we hosted the Graduation Ceremony of the Leadership Academy for Poland. We have the honor of announcing that the LAP Class 2018 has officially graduated. Sincere congratulations to all our new Alumni!
The ceremony was accompanied by a memorable lecture on "Leadership Lessons for Emerging Future" delivered by our special guest – Martin Kalungu-Banda, a well-known leadership educator, a faculty member of the Presencing Institute, a former faculty member of the University of Cambridge Institute for Sustainability Leadership and the National University of Singapore Executive Programs, as well as a renowned author. Martin has visited Poland for the very first time, especially for the Leadership Academy for Poland to address the Graduation Ceremony guests in a commencement speech. The audience seemed to harmoniously agree that Martin's speech was incredibly inspiring and provoked reflection.
The new Alumni were welcomed by warm words from the representatives of Class 2016, 2017 and newly elected representatives of Class 2018, as well as Marek Metrycki, representative of Deloitte – Academy's general partner. The founders of the Academy prof. Cezary Wójcik and Maciej Ujejski shared the impressive accomplishments of the Academy and warmly thanked everyone involved in building what the Academy stands for.
This special night ended with a lovely gala dinner for the recent graduates, spent in an amazing atmosphere and festive spirit.
We are excited and hopeful to see the next edition succeed as well! Stay tuned and follow our social media accounts to get more information about the application process in 2019.